Archive | AHRC Leadership Fellows
RSS for this section
This post was originally written for the BCMCR (Birmingham Centre for Media and Cultural Research) blog.
On 4th December I ran the Craft Economies: Inequalities, Opportunities, Interventions conference, as part of my AHRC Innovation Fellowship project Craft Expertise. The aim of the conference, which took place at STEAMhouse Birmingham, was to highlight and discuss issues around diversity and inequalities in the craft sector, and give presenters a space to share their work on various aspects of craft. We welcomed speakers from around the world and overall were delighted to see the connections being made among a diverse audience of makers, academics and organisations. You can download a PDF of the programme here.
The day began with the keynote from Deirdre Figureiredo (left) of Craftspace in Birmingham.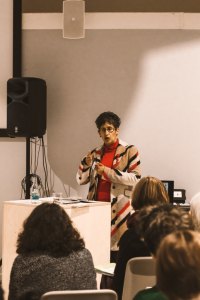 Deirdre, who is also involved with the Craft Expertise project, discussed her journey into craft and the challenges she has faced in the arts and cultural sector. She highlighted some of the recent work Craftspace is doing to explore alternative pathways into a craft career which sit outside of the traditional routes through higher education, such as the Women's Maker Movement project with Shelanu. The examples show that by working with communities and delivering craft skills training, women in marginalised and diasporic communities can engage with craft, develop skills and explore opportunities to make money from craft. Deirdre ended with a call for individuals and organisations in the room to pledge to get involved in a working group to start addressing issues around inequalities in the craft sector. We were pleased in the end to get 12 people signed up to the working group, so there will be more information released about that in due course.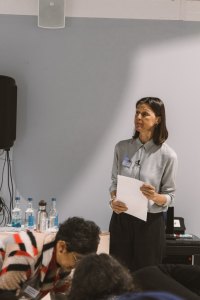 Deirdre's keynote was followed by a panel on Craft in the Community featuring Julia Bennett of Crafts Council UK (right), Fiona Hackney of Manchester Metropolitan University and Roberta Comunian of King's College London. Julia talked about future opportunities in craft, such as the idea of inclusive growth as an alternative mode of craft entrepreneurship which is not necessarily driven by economic imperatives. This had some connections with Deirdre's call for alternative pathways into craft, and the idea of more social, community-driven models of craft was a recurring theme throughout the day. Fiona's work on the 'Maker-Centric' project and edge places of creativity provided useful insights into community-led craft practice with local and global connections, and the idea of 'place as process' when thinking about such projects. Roberta provided a fascinating insight into the role of craft intermediaries in Cape Town, South Africa. She provided more examples of the social and community aspects of craft entrepreneurship which are distanced from market logics.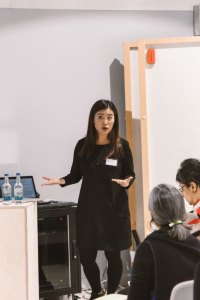 After lunch I chaired a panel on Global Craft with Charlotte Waelde from Coventry University and Ya-Chao Tu (left) from King's College London. Both came at the subject of craft in different ways – first Charlotte discussed the important issue of copyright and intellectual property in craft, then Ya-Chiao looked at the relationship between tourism and the craft industry in Stoke-on-Trent and in the Yingge district of Taiwan. Rose Sinclair of Goldsmiths was also scheduled to present in this panel but she unfortunately couldn't make it. She did kindly record her presentation, which you can listen to here. Rose discusses Black women's textile practices and the concept of empathic activism as a way of thinking about more inclusive craft economies.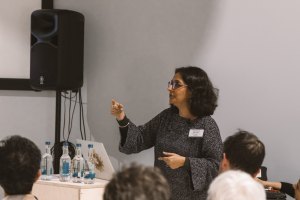 The third panel on craft and sustainability featured presentations by Lauren England of King's College London, Geetanjali Sachdev (right) of Srishti School of Art, Design and Technology in Bangalore, and Iain Taylor of BCMCR. All discussed the subject of craft and sustainability from very different perspectives. Lauren talked about how early career makers negotiate between balancing passion for craft with sustainability. Geetanjali discussed the role of botany in Indian craft practices, and potential pedagogical benefits. Finally Iain Taylor presented a different take on craft practice using the case of Riffs, and the process of making the journal and its zine editions in short timeframes at events.
The final panel was another chance to explicitly address the issue of inequality and diversity in craft. Rajinder Dudrah chaired a panel which included myself, maker Majeda Clarke, Lorna Hamilton-Brown and Jeanette Sloan of the website BIPOC in Fiber.
We talked individually for 5 minutes each about our take on diversity in craft. I discussed my research so far on the Craft Expertise project, including the experiences some of my interviewees have had of racism and microaggressions in craft. Majeda talked about how when she was growing up, she was discouraged from pursuing a craft career because her family did not consider it a 'real job'. Lorna described how she was once told that "Black women don't knit", so she decided to write about how Black women do knit for her MA dissertation with the Royal College of Art. Jeanette Sloan then introduced the website she founded, BIPOC in Fiber, which provides a platform for BIPOC (Black, Indigenous People of Colour) working in fibre crafts to showcase their work and be part of a community. Jeanette launched a crowdfunder for the website which raised over £32,000 in just 28 days. We finished with a discussion about what could be done to make the craft sector more inclusive. Lorna finished by saying "I have never been invited to the table [of the major arts/cultural organisations]. So I'm just going to make my own table". Stormzy was often referenced as an example of someone who made his own table and is now reaping the rewards.
The discussion highlighted that there is a lot more to do to make the craft sector more inclusive, and that organisations need to step up and take active steps towards doing this. The Craft Expertise project will continue to work towards providing the evidence base for practical steps and interventions to this end.
A huge thanks to everyone who attended, participated and helped throughout the day. I would particularly like to thank the presenters, BCMCR colleagues Annette Naudin, Rajinder Dudrah and Craig Hamilton, the staff at STEAMHouse, BCU School of Media students Holly Payne, Thomas Sayers and Ollie Hambrook for recording video and photography throughout the day, and the caterers Digbeth Works.
Catch up with Tweets from the day on the hashtag #crafteconomies.
Photography by Ollie Hambrook.
Now that my UKRI/RCUK Innovation Fellowship, Craft Expertise (short name) is off the ground and the first round of interviews and ethnography have been completed, I'm able to share some initial thoughts.
First a quick recap – this project is in collaboration with Crafts Council UK and aims to support greater diversity in the UK craft economy. It follows on from my initial postdoctoral project with the Crafts Council which explored the potential role of social media for supporting diversity in craft. The current project seeks to build on the practical and intellectual contributions of the initial project.
A clear theme emerging from my first 15 interviews with women makers of colour is how their craft is valued. I've interviewed women who are relatively well established, as well as women taking part in jewellery beginner courses with a view to potentially starting a small craft business in their community. These are seemingly two opposing ends of the craft practice spectrum, thus the way in which crafts are valued in this context manifests in two different ways. First, in the case of the women who are relatively well established, there is a sense that they have had to work very hard to get their expertise recognised, if it has been recognised at all. In my PhD (to be released as a book next year) I argue that while it is important for cultural workers to be able to signal their expertise, it is imperative that their expertise be recognised an legitimated as such. Only then can they work towards establishing themselves. The problem is, what if entrenched structures mean that your expertise can't be recognised? Furthermore, what is the point of signalling expertise if cultural leaders and decision makers cannot, or do not want, to see you?
This idea of expertise being dismissed is in evidence among the interviews I have done with the established makers. In many cases their presence at certain makerspaces, or at craft events, has been questioned because of their ethnicity. Some have even been asked if they were there to "tick a box". Such experiences are discussed in the first episode of the Maker Stories podcast series produced as part of this project, in which I interview London-based designer-maker Jasmine Carey. Many of the women working in craft professionally have been through higher education and developed a level of expertise in their craft. Yet their experiences in a predominantly white, middle class sector are shaped because of the colour of their skin. Their craft expertise is not recognised as expertise, instead they are made to fight for recognition, made to feel as if they don't belong, or dismissed as a 'token', a result of diversity policies which as Sara Ahmed has shown, merely pay lip service and do little to address inequalities.
On the other hand, the women I have been interviewing who took part in a jewellery making course were predominantly migrants from Bangladesh or Pakistan, who live in Birmingham. They fundamentally think of craft as an important practice for wellbeing, mental health and socialising, as well as a useful skill. The free courses enable them to see craft practice as a potential way to make money from small scale enterprise. Primarily for them, craft is a practical skill akin to cooking and cleaning, but with much more potential for self-fulfilment. In this sense the cultural perceptions of craft come into play, whereby the domestic connotations of certain crafts mean that they are not commonly seen as a suitable career choice, as discussed in my report from the previous project.
While perspectives slightly differ across the two participant groups, the commonality is that the valuing of craft is gendered, racialised and arguably, classed. The work on cultural value by Kate Oakley and Dave O'Brien suggests a link between cultural value and inequality, whereby "specific types of cultural consumption are intertwined with who is able to succeed in cultural production" (2015:3). As professional craft in global north contexts has traditionally been associated with white men (because they made up the majority of the membership of craft guilds), women, and especially women of colour, do not inhabit the long-standing norms of this space. Thus, their ability to develop their craft expertise and get it recognised, is made all the more difficult because of these entrenched assumptions about what a craftsman entails. This is evidenced by the fact that according to Crafts Council UK figures, the majority of those working in secure, full-time craft work are white men. These structural issues are compounded by long-standing perceptions of certain types of craft as amateur, domestic and not a viable career choice.
I have more analysis to do on this and my interviews and ethnography will continue into the new year, where I hope to learn more about individual experiences in craft. With participants, collaborators and through further research I hope we can work towards addressing how the craft expertise of minority groups is framed and valued.
As of March 1st I began my new AHRC Leadership Fellows project, continuing my collaboration with Crafts Council UK. The project seeks to develop an empirical and theoretical account of the nature of craft expertise among primarily black and minority ethnic (BAME) women in the UK.
As I have detailed in this blog over the past few years, I have been interested in the nature of expertise in creation, or aesthetic expertise – which I understand as a knowledge of aesthetic codes and classifications, and skill in appropriating that knowledge to produce a work of aesthetic value. I argue that the notion of aesthetic expertise can help us to re-conceptualise and re-imagine what expertise is in cultural work. In turn, I hope this could potentially help to address issues of inequalities and lack of diversity in the sector, because it can help us to understand forms of aesthetic expertise taking place in spaces not traditionally considered 'creative' – for example, the domestic space. Indeed craft is often associated with domestic, feminised, 'amateur' pursuits. Furthermore, in this 'post-Etsy', maker movement-inspired surge in craft practice and enterprise, online spaces tend to be dominated by white, middle-class, western makers and aesthetics. The recent race row in the knitting community as documented on Instagram illustrates the underlying assumptions about who gets to freely position themselves as a potentially 'expert' maker, able to make a living from their work. The result is a contemporary craft sector which is not diverse, yet craft practice has been taking place within communities around the world for generations. For some, it is as routine as cooking or cleaning.
Because of craft's traditionally domestic location among BAME families, it is almost inconceivable that one could forge a career out of making, because it does not represent a secure or prestigious job. Many of the women I have spoken to in my previous research with Crafts Council UK indicate that their parents encouraged them to study law, accounting or medicine instead. The perception of craft within certain communities as a feminised, precarious and primarily domestic pursuit is at odds with the idea of the 'expert' – a traditionally masculinised, privileged and powerful figure. How can the idea of the 'expert' be claimed (or reclaimed?) in craft? Could the (re)claiming of expertise among women makers of colour – the idea that their work involves practical skills which produce work of aesthetic value – help to address issues around the visibility of diverse crafts and makers? These are the questions directing my thinking throughout this project.
In a practical sense I will be working with Crafts Council UK to produce social media resources for makers, podcasts and policy recommendations. I will be interviewing makers from all over the UK and carrying out ethnography at various maker spaces. I'm looking forward to engaging with more makers over the next two years and hearing about their stories and expertise.