Conferences at Middlesex and Salford
I've been on 'tour' in the past week presenting at conferences at the University of Middlesex and the University of Salford. Before doing a quick recap of those, first I'll introduce what I presented myself.
Compared to my previous conference presentations, this is a more rounded analysis of my pilot study because it includes material from the interview. I incorporated Bourdieu's ideas of the illusio into my analysis, because I have found it useful when thinking about artists and expertise. The slides are below:
My main arguments are:
Expertise is a social relation, and on social media this is performed in a public way through the use of platform-specific functions such as hashtags, replies, likes etc.
This can be conceptualised for artists using Bourdieu's idea of the illusio – a consensus about consecrated artists, which is reached by those in power and fundamental to the elevation of those artists over others, "permitting consecrated artists to constitute certain products, by the miracle of their signature (or brand name) as sacred objects" (p.230). A 'social media' version of this could be when a user or company with high status, such as a world famous art gallery, retweets an artists' work to their thousands (maybe millions of followers), immediately boosting that artist's reputation and adding to their performance of expertise, potentially elevating them over other artists also on social media.
However, the temporal and structural qualities of social media, as well as the motivations of the corporations who own the platforms, influence what is displayed and seen on social media and therefore must be considered in contemporary accounts of cultural work.
I'm currently putting together an abstract and paper based on this, and incorporating my more recent research, for an edited collection based on contributions to the Creative Industries and Collaborative Production Symposium at the University of Middlesex.
The Creative Industries and Collaborative Production, University of Middlesex, 13 Nov 2015
The keynote for this one was Sarah Brouilette, who talked about her recent work with Chris Doody on the Literary as Culture Industry, which is of particular interest to me. Sarah said that the idea of being a writer is still highly appealing because it appears to be a form of non-alienated labour, but this idea is tenuous. She talked about how the literary nowadays is transmissible to other media forms such as films, TV, etc – a "profilerating literary adaptation industry, endlessly repurposed". She argues that the literary is now liquid content which pervades all other forms of media, and now that authors are aware of this, it changes the illusio – authors that are elevated are those whose books can successfully translate to other media forms. She also raised a point about e-book readers and their function to determine how people read books and collect information about them. This is an example of the 'power of the platform' I talk about in my own work.
The other papers included a great mix of work on new media and creative industries. James Graham (below) also talked about the literary industry and authorship – arguing that the author – the 'brand name' (to draw on Bourdieu again) is a platform for translating product into sales. James talked about a collaborative, edited collection called Ponte City in which the editors were eventually listed as the main authors, the auteurs, and therefore recieved the credit.
 Alessandro Gandini, who I met at University of Warwick and who asked me to present at this symposium, finished the day with a great presentation about his work on creative labour markets and the collaborative economy. He talked about creative workers and reputation – the idea that 'you're only as good as your last job' and how this is crucial for securing work in precarious industries, where free and unpaid work is common. Of particular interest to me was his idea of the social media reputation economy – how freelance websites and social media contribute to reputation building, which is prominent in the dialectic between risk and trust for workers. On social media this requires the production and curation of a public and social self to be sold as a commodity – self-branding.  Alessandro argued that we have a financialised labour market where free labour is an investment, and risk falls entirely with the individual. He argued that the collaborative economy resembles "neoliberalism on steroids" rather than an aftermath of neoliberalism- with self-exploitation as investment and false consciousness as self-branding.
I see reputation as a subset, a component of expertise, and I'm particularly interested in the ways reputation is manifest online, particularly through social reputation measurement sites such as Klout, which calculate your online reputation through a series of algorithms, and present you with a score to show how influential you are. The role of these sites has not come up in my own research yet.
Challenging Media Landscapes, University of Salford, 16 Nov 2015
This was a huge event with four paralell sessions throughout the day and two high profile keynote speakers in David Hesmondhalgh and Angela McRobbie. David talked about his new book on cultural policy, providing an overview and critique of cultural policies since New Labour, right up to the current Conservative government. He argued that cultural policy has failed to deal with inequalities in access and participation in the arts, and that policies should pay more attention to social democratic goals, highlighting the activities of the left-wing Greater London Council in the late 1980s as an example of this.
Angela McRobbie also talked about inequalities in cultural work and entrepreneurship in the 'talent economy'. She argued that the double movement of individualisation and neoliberalisation is defined through competition, talent and self-responsibility. Much like what Alessandro talked about at Middlesex, the risk is with the individual whether they sink or swim, with no safety net of the welfare state. This is reproducing social inequalities.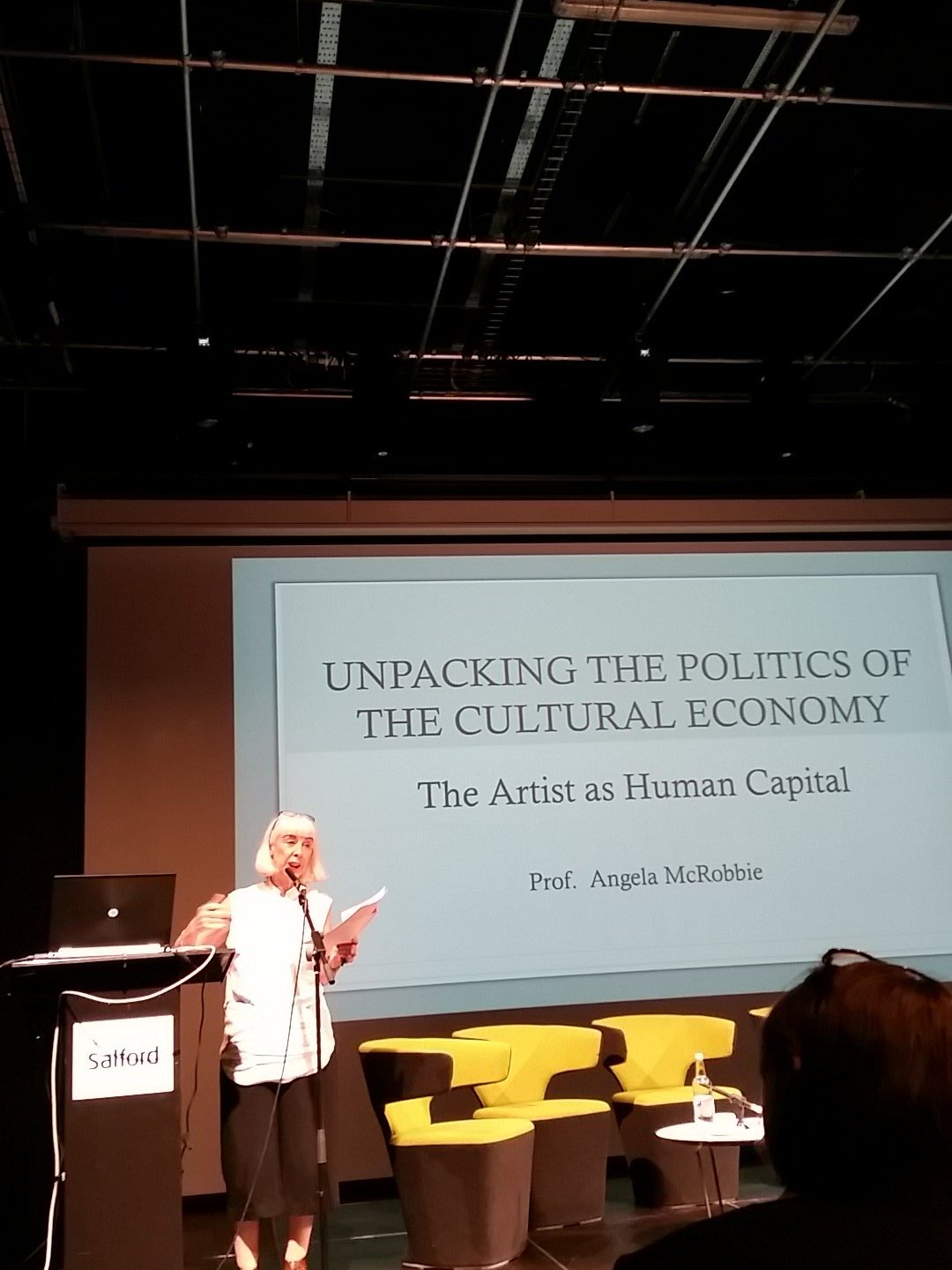 Angela also talked about the 'middle-classification' process – a new creative workforce working in jobs in retail and the service industry which have been 'elevated' to creative work, such as coffee baristas. Young people are paving the way for an inflated middle class where the emphasis is on passionate work which permeates all aspects of life. I see this as an example of the artist as a model for all types of work, as argued by Andrew Ross and others.
The final panel of the day was particularly interesting for me, with contributions from Dan Ashton, Daniel Allington and Leandro Lima, all about cultural production online. Leandro talked about gender equality in crowdfunded games, highlighting that even though there are opportunities for anyone to create games, gender inequalities in those that are crowdfunded still remain, with very few women in major development roles.
Daniel Allington presented his work on Soundcloud and music production within 'scenes'. Even though soundcloud offers a space for anyone to make music, place is still important, and those producers with the most followers resided in the major cities within particular clusters and cliques. Finally, Dan Ashton talked about cultural production in the bedroom and its value, presenting some examples of people who have made millions from creating YouTube videos, arguing that the bedroom is now an important site for cultural production. Creating these videos requires a great deal of time, effort and equipment, which not everyone has access to.
I pointed out at the end of this panel was that these were all examples of 'amateur' cultural production, which carries with it the idea that 'anyone' can produce cultural products, and the promise of one day 'making it big' regardless of your gender, social class, and so on. But what was apparent in all of those examples was that the issues and social inequalities associated with traditional forms of cultural production appear to be replicated in amateur, online cultural production.
These conferences were really helpful for thinking about the really relevant issues for my work – particularly around social class and inequalities in contemporary cultural work.
Tags: conferences, cultural production, Expertise, phd, Social media
About Karen Patel
PhD candidate in social media and cultural work at Birmingham City University.